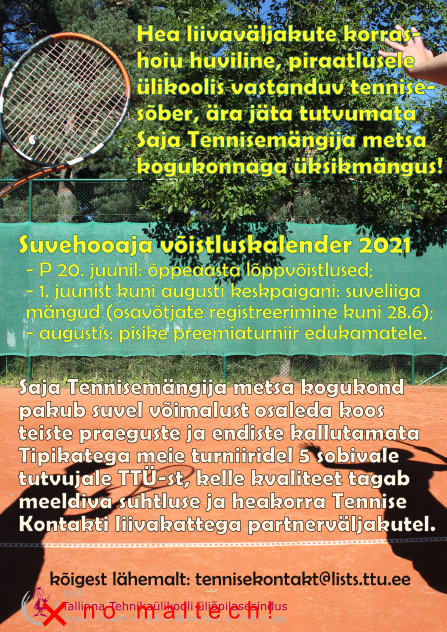 In English, too: Welcome international students and faculty supportive of and willing to participate in the pirate-free community version management of the Tallinn Tech tennis court!
Feel free to get acquainted to the Hundred Tennis Player Wood community (the Tennise Kontakt or Tennis Contacts community in short) by introducing your level of play and mentioning your academic program or profession at Tallin Tech at the e-mail address shown on the adjacent poster to participate in our academic year ending tournament on Sunday, 20 June, or our long summer tournament from the beginning of June to mid-August, or both. The registration deadlines are June 18 and 28, respectively.
We value reasonable exceptions. Those of you who find yourselves among administrative staff, but are sure and committed that pirate practices do not belong with universities and are in no way acceptable at reliable and motivating educational institutions as Tallinn University of Technology should be for its students, can use the address tenniseturniir at lists ttu ee in June to apply for participation in our tournaments, and we might consider giving one of you per season a try to introduce your commitment to the sound principles mentioned above depending on the results of the administrative staff representative last year.
Important notice: Players participating in events (e.g. the alumni doubles tournament) organized by the Sports Club at Tallinn Tech or supportive of pirate gangs in any other way are not welcome in Tennis Contacts at all. However, as long as the administrative gangsters are in control and you have no way around the so-called Maltech version of using the university tennis court that was rescued from demolition by our community at a request for help from the university sports club and under the terms of a contract protecting our community version of the only possible solution at that time to save the tennis court as well as the last opportunity to play tennis on campus, and the administration of which was brutally hijacked 17 years later by the university administration for the benefit of its paid personnel especially at the sports club as a rude breach of this contract with the students who lent a helping hand when the going was tough for the university, you can still join us by signing our Commitment to Fair Play in the tennis loving community at Tallinn Tech, and of course, we expect this attitude to hold off court, too.
If this welcome message wasn't too long for you then you might be interested in continuing to read about our community and the opportunities for playing tennis that we offer as well as our concerns with the Tallinn Tech tennis court and related problems TODO: in more detail...